New "pro-abortion" caucus "needed" at the legislature.
Connecticut's pro-abortion leaders held a press conference last week. They announced the formation of a new pro-abortion caucus at the state legislature. And they unveiled several proposals to expand abortion in Connecticut.
"How much more could it be expanded?" you might ask. Connecticut already has some of the most permissive abortion laws in the country, with almost no restrictions. 
According to those who champion death in our halls of power, they now seek: 1) That "advanced practitioners" (not just doctors) be eligible to provide "abortion-related care"; 2) That "abortion-related care" be covered under all health plans, including high-deductible plans; 3) That there be telehealth for certain "abortion-related care"; and 4) That there be increased medicaid reimbursement rates for family planning services. It's unclear what realities these proposals may portend. The state is required under law, for instance, to provide one health care plan that does not include abortion. And the state already covers abortions at 100% reimbursement for women on Medicaid (Husky). 
Nevertheless, these proposals come from forces who have near-total control of our state government. They are not to be taken lightly. As reported by News12:
"The Family Institute of Connecticut opposes abortion. FIC president Peter Wolfgang says pro-choice groups know abortion isn't in jeopardy in Connecticut, but are manufacturing a crisis just to make the procedure more common."
The real goal of these proposals appears to be to leverage pro-abortion hysteria so as to shovel more Connecticut taxpayer dollars to the abortion industry.  CT taxpayers may be paying for abortions for women from other states if these bills pass. There may even be a First Amendment issue if they force religious employers, such as churches, to provide abortion coverage. 
That's the bad news. Here's the good news.
Even though the unborn child will still be without legal protection in Connecticut, the repeal of Roe v. Wade–should it really happen–will be a huge victory for the pro-life movement everywhere. 
It will show that we were right all along. That, despite forty-nine years of being told it will never happen, the pro-life movement made it happen. And it will open up whole new realms of possibility.
Because, if Roe v. Wade can fall after nearly fifty years, then Connecticut's pro-abortion "1990 law" can fall someday too.
Connecticut's pro-abortion leaders know it. That's what really frightens them. 
And that is a cause for rejoicing. Which is exactly what Connecticut's pro-lifers should be doing…even as we steel ourselves for the long fight ahead.
Those of us who were able to attend the March for Life did exactly that.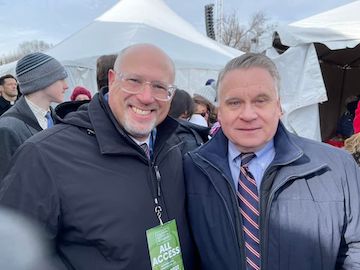 Take heart, Connecticut pro-lifers! The lawsuit against the Anti-Pregnancy Center Law is moving forward. The Connecticut March for Life is on for Wednesday, March 23rd. And FIC will fight whatever new attacks on the unborn are launched this year. Life is winning in America. And, someday, it will win in Connecticut too.