This past Saturday I had the pleasure of serving as a prayer volunteer at the Franklin Graham crusade in Springfield, MA. After arriving I was happy to see many people of different races and ages walking towards the gathering. The diversity I observed reminded me of being in NY or Disneyworld and made me think about what heaven will look like. Before the event started my husband and I attended a smaller private gathering where Franklin Graham spoke. The room was packed with volunteers, eager to listen to Graham's stories of personal salvations, transformations, and assistance given to countless people through his ministry.
The event was held at the …, the same location that holds the Big E. Thousands gathered and excitement filled the air. The event started with a beautiful time of worship. A Christian country singer named Dennis Agajanian lead the audience in hymns and upbeat songs. People stood up to clap, raise their hands and a young crowd gathered to the front of the stage. After that time of worship, the popular Christian band Crowder took the stage. I've been a fan of David Crowder's music since I was in college. I was surprised to realize some of the new songs I enjoy listening to on K-LOVE, are the songs he's written. I sang along with most of them and stood up during one that brought me to tears. Being outside with friendly people and folk rock worship made it feel like a fun summer concert.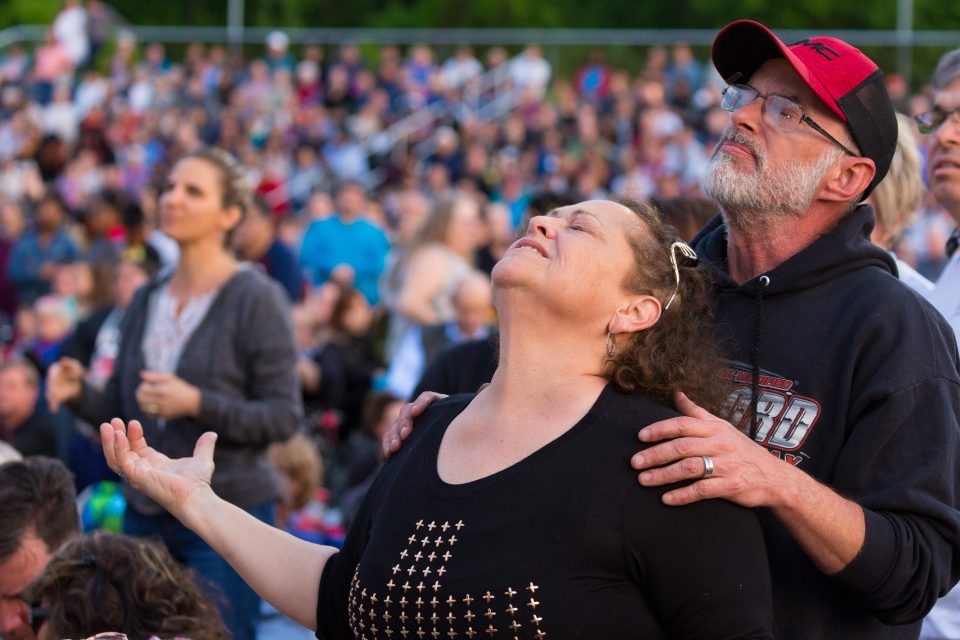 Soon Franklin Graham came on stage to give a simple but profound message. I'd seen his father Billy Graham speak at a crusade in Kentucky over a decade ago. Even though the crowd in Massachusetts was much smaller, it was a significant crowd for a less religious state in New England. I noticed how much Franklin Graham embodied the mission and faith of his father. He didn't come to give a complicated message on biblical doctrines. He came to give a message that anyone from a teenager to an elderly unchurched person could receive. As I looked at the crowds I wondered how many people brought friends and family members in hopes they'd hear the gospel and receive Jesus as their Lord and Savior. Graham spoke about the division in our nation and how politics has changed for the worse over the years. He didn't mention any political leaders or get into the details of the division. His focus was exalting Jesus and bringing hope to people who needed it.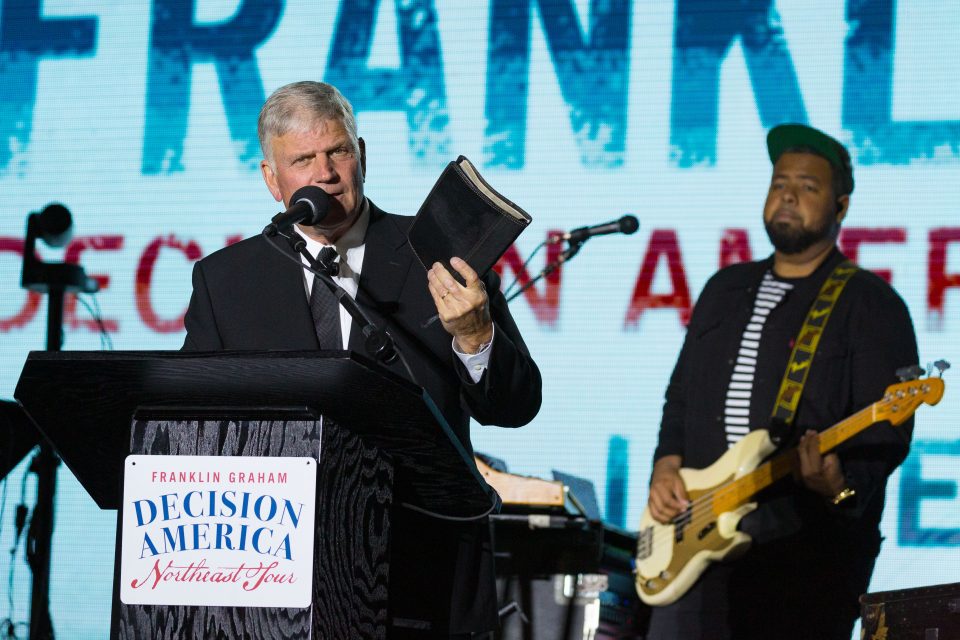 "Religion is not enough," Franklin Graham said. "Religion cannot save you. There's lots of religions in this world, but there's only one Jesus. There's only one Gospel."
Graham told his own story of coming to faith in Jesus in his 20's. I was surprised to hear it took that long for the son of a renowned evangelist to come to Jesus. Graham used his story as an example to show that growing up in a Christian family, going to church, following religious rules, and being a good person isn't enough to get you into heaven. He made it clear that every person has to make a decision to repent for their sins and accept forgiveness from Jesus. He told the crowd that it didn't matter if you grew up Catholic, Baptist or any other denomination. He stressed the fact that salvation comes from faith in Christ and the opportunity to receive him was available for every person who wanted that.
Graham was also willing to speak out about controversial topics. He spoke of biblical marriage as the union of a man and a woman. He also spoke abortion and mentioned it as a form of murder that is displeasing in the Lord's eyes. He shared God's compassionate heart to forgive and let the crowd know that healing and forgiveness was available to those who'd chosen abortion. So few pastors are willing to talk about things that some in their congregations would find offensive. Graham was more concerned with speaking truth than pleasing man. When he gave an invitation to accept Jesus, people stood up across the stadium. I was able to pray with a college student and my husband prayed with an elderly man who wanted to accept Jesus.

I highly recommend attending Franklin Graham's crusade in Bridgeport tonight. Bring friends and anyone who would enjoy uplifting music and a simple, powerful gospel presentation. Here's a link below with all the info for tonight's gathering!
Franklin Graham crusade in Bridgeport, May 28 @ 7:30 pm https://northeast.billygraham.org/event/bridgeport/
Venue :
Seaside Park, 1 Barnum Dyke
 

Bridgeport

,

 

CT

 

06604

 

United States

Bring your family and friends to an exciting free event featuring Live music by Crowder and a message of hope from Franklin Graham! No permanent seating provided, please bring chairs and blankets. No drones will be permitted in the event area.

Free limited parking available in Marina Park and on Marina Park Circle, Waldemere Avenue and on Soundview Drive (East of PT Barnum Statue). Gates open at 6:00pm. Additional free parking available at the University of Bridgeport. Parking lots identified by "P"
*all photos are from Franklin Graham's website